Hemp protein powder is a plant protein and nutritional powerhouse!
It's great for smoothies and in recipes because it's a rich source of protein, essential omega fatty acids, dietary fibre, minerals, antioxidants and phyto-nutrients that can benefit your health.
It's organic, vegan, alkaline, and naturally free of gluten, dairy, soy, and other allergens*. It has a pleasant earthy nutty taste, and makes a great smoothie base. It also works well in recipes such as muffins, balls, cookies, bars and desserts, or any other application that boosts protein intake.
The best hemp protein powders balance high levels of protein with the healthy fats and nutrients that hemp is renowned for. Hemp seeds are typically refined to powder with varying ~50%, ~60%, and ~70% protein content. Our product has a protein content of ~60% as we feel this is the best balance between maintaining high levels of protein with omega fatty acids and nutrients essential for function and growth. The hemp powders with higher ~70% protein content achieve this level by removing most of the good omega fatty acids and essential nutrients, and the ~50% varieties lack the level of amino acids needed to be considered a quality source of protein.
Complete Protein
Hemp has a complete amino acid profile, containing all nine essential amino acids and branched-chain amino acids that the body cannot produce and must be supplied from the foods we consume.
Amino acids are the building blocks of protein and muscle tissue, more commonly referred to as the 'building blocks of life'. Hemp seeds contain all 21 amino acids required to support essential metabolic function, making it a source of protein to assist muscle repair and development. Not every plant protein has a complete amino profile – another reason why we recommend this product.
Note that leucine is at lower levels than other protein powders. Leucine is one of three branched-chain amino acids and is primarily involved in muscle protein synthesis for muscle growth and recovery. While we recommend this product for vegans and non-vegans alike (especially for the best daily breakfast smoothie), we do not recommend it as the sole source of protein if your goal is maximum muscle gain. Adding a BCAA supplement could help to overcome this.
Hemp vs Whey vs Pea Protein
Which protein is best – hemp, whey, or pea?
All sources have similar levels of calories and protein, but whey and pea have more concentrated amino acid profiles. Whey has a superior amino acid profile and is the fastest to digest.
Hemp contains many other essential nutrients needed for regular body function such as fatty acids and fibre, which whey and pea lack. Therefore we recommend consuming both – hemp makes the?best healthy smoothie base and whey is better suited to consuming around physical exercise when amino acid uptake is more critical. Whey is a milk product so not suitable for vegans – if avoiding animal proteins then pea can be used around physical exercise instead of whey.
Digestibility
Hemp, being a plant-based protein, is a slower digesting protein powder than general animal types. In saying that, the digestibility rate is high with 91-97.5% of the protein easily digestible.
The better a protein is digested, the more efficiently it can be used by the body. The digestibility of any given protein is related to the concentrations of its amino acids. The Protein Digestibility-Corrected Amino Acid Score (PDCAAS) is a rating that determines the bioavailability of a protein. The maximum score was traditionally 1.0 but newer proteins such as whey exceed this scale. This Australia New Zealand Food Standards report?gives hemp seeds a PDCAAS score of 0.9. This is greater than most grains, nuts and legumes.
Essential Fatty Acids
Hemp seeds are a good source of Essential Omega Fatty Acids (EFAs). EFAs are vital for heart health and in creating a healthy immune system and reducing inflammation in the body. Inflammation is a leading cause of illness and chronic diseases such as arthritis and cancer.
Consuming hemp is an easy way to add more EFAs to your diet. Though hemp protein powder is made by pressing hemp seeds to remove some of the oils, this product is only partially processed – meaning that some of the EFAs and nutrients essential for function and growth remain.
This product has a total of 4.2 grams of essential omega fatty acids per serve, and 13.4 grams of EFAs per 100 grams of the product. This does mean that the calories in this product are just slightly higher than other similar protein powders, but we believe that the benefits of having these crucial healthy fats outweigh the slightly higher calories.
Good Source of Fibre
Fibre is the part of the food that cannot be digested by the body. It is important in the maintenance of a healthy balanced diet as it helps to keep our bowels functioning and healthy.
High fibre diets have many reported benefits including a lowered risk of heart disease, constipation and diabetes (improved blood sugar). Fibre also promotes healthier gut bacteria and a reduced risk of bowel cancer. Men should consume 38 grams and women should consume 25 grams of fibre daily.
Our hemp protein is an easy way to add fibre to your diet. It contains 2.4g of dietary fibre per serve or 7.8g per 100g. By drinking just one shake or smoothie you'll get 6-10% of your recommended daily intake and, because fibre can keep you feeling full for longer, you may find it more satisfying.
By comparison, other protein powders, such as pea, egg, and dairy-based powders, contain very little fibre.
Why is Hemp Protein White in Colour?
Hemp protein is typically white in colour. Our product is white in colour because the outer green skin casings of hulled hemp seeds are removed. This creates a whiter colour product that has a smoother texture and better taste while being less gritty. There is no nutritional loss due to the colour difference.
Hemp is Legal in New Zealand
Hemp and marijuana both come from the same plant species, the Cannabis Sativa L, but there are differences between the two. Hemp seeds are cultivated from the hemp plant which is grown for applications in the automobile, clothing, body care, plastic, and food industries. Marijuana plants are different from hemp plants and are grown for medicinal and recreational use.
As the plants are grown for different uses they require different growing conditions. Generally, hemp requires minimal care and is able to grow in most climates. Marijuana is usually grown in more carefully controlled atmospheres.
Marijuana plants contain high levels of Tetrahydrocannabinol (THC). THC is the active component and produces the "high", ie the psychoactive component of the plant. Marijuana plants can contain THC levels of between 5-35%. By comparison, hemp plants contain THC levels of <0.3%.
The actual hemp seeds do not contain THC. Hemp protein powder is made from hemp seeds. It is the other parts of the hemp plant (leaves/flowers) that contain THC.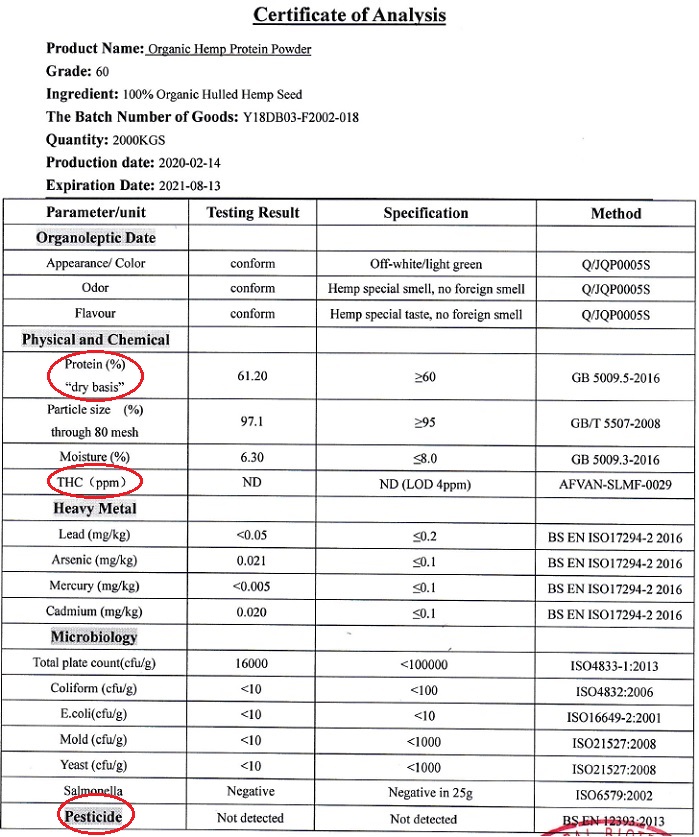 Side Effects
Though technically the leaves/flowers could contaminate seeds if not processed correctly, hemp plants contain such low levels of THC (<0.3%) that even if so, according to a study, the THC levels are not even significant enough to fail a drug test.
According to Jolene Formene, staff attorney at Drug Policy Alliance,  Hemp seeds are non-psychoactive, meaning that consumers cannot get high by eating them".
Other side effects from hemp seeds are uncommon. Those with allergies to hemp should avoid this product. As this product contains fibre some people may experience sensations of gas, diarrhea or bloating if over-consumed.

Other Benefits & Conclusion
Hemp seeds are a good source of nutrients including iron, calcium and potassium. Hemp seeds also contain antioxidants called lignanamides, including four types newly discovered and unique to them.
The diversity of hemp seed composition, including these types of antioxidants and nutrients, make hemp seed protein a reasonable choice for a protein powder and our recommended choice as?the best smoothie base and in baking applications.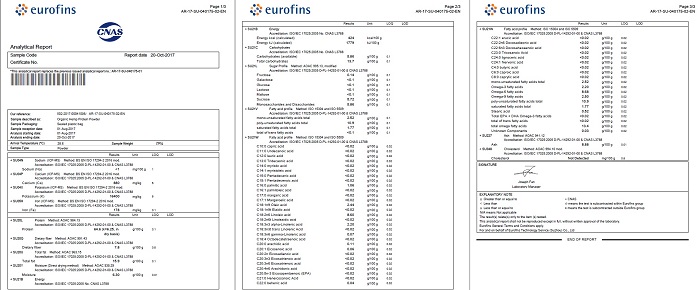 Each sachet contains one serving (31.25g). Mix entire sachet with ~200-300ml of chilled water or milk depending on desired taste.
Gourmet Vanilla
Serving size: 31.25g (2 heaped scoops)
| Name | Ave Quantity Per Serving | Ave Quantity Per 100g |
| --- | --- | --- |
| Energy | 566kJ | 1769kJ |
| Calories | 135 | 422 |
| Protein | 19.8g | 62g |
|  – Gluten | 0g | 0g |
| Fat – total | 4.9g | 15.3g |
|  – Saturated | 0.6g | 1.7g |
|  – Total Omega Fats | 4.1g | 12.9g |
|  Omega-3 Fatty Acids | 0.7g | 2.1g |
|  Omega-6 Fatty Acids | 2.7g | 8.4g |
|  Omega-9 Fatty Acids | 0.8g | 2.4g |
|  – Trans Fats | <0.01g | <0.02g |
| Carbohydrate | 5.4g | 16.8g |
|  – Sugars | 1.8g | 5.7g |
|  – Dietary Fibre | 2.4g | 7.5g |
|  Sodium | 1mg | 7.5mg |
|  Calcium | 27mg | 84mg |
| Potassium | 504mg | 1574mg |
| Iron | 5.5mg | 17.3mg |
Ingredients: Organic Hemp Protein Powder, Flavour, Sweetener (Sucralose)
Please note that this product is processed in a facility that also handles milk, egg, soy, peanut, and gluten ingredients.
Typical Amino Acid Profile
(mg per serving – unflavoured)
Branched chain aminio acids:
| | |
| --- | --- |
| Isoleucine | 730 |
| Leucine | 1220 |
| Valine | 920 |
Other essential aminio acids:
| | |
| --- | --- |
| Lysine | 640 |
| Methionine | 460 |
| Phenylalanine | 830 |
| Threonine | 640 |
| Alanine | 770 |
Non essential aminio acids:
| | |
| --- | --- |
| Histidine | 520 |
| Arganine | 2510 |
| Aspartic Acid | 2020 |
| Cysteine/Cystine | 260 |
| Glutamic Acid | 3310 |
| Glycine | 800 |
| Proline | 630 |
| Serine | 960 |
| Tyrosine | 630 |
| Hydroxyproline | <100 |
| Ornithine | <100 |